Welcome to APRICOT TAIPEI 2008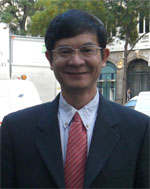 APRICOT is Asia Pacific's premier annual educational conference that provides a neutral forum to advance the skills and understanding necessary to grow a robust Internet infrastructure in our region. By bringing valuable knowledge and experience, APRICOT provides a unique opportunity for the region's Internet industry to meet and focus on Internet operational issues that affect all of us.
In the year of 2008, APRICOT will be held in Taipei, Taiwan, hosted by Taiwan Network Information Center (TWNIC). We cordially invite you to join and support this grand event, and get involved with the speakers and attendees within and beyond the Internet arena from around the globe.