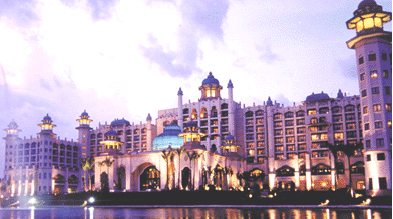 APRICOT 2004-Kuala Lumpur, will be held at the magnificent Palace of the Golden Horses. This hotel is a world class luxury resort and conference centre with stunning Malaysian-Moorish architecture overlooking a magnificent 150 acre lake at the Mines Resort City in Kuala Lumpur.
To the unfamiliar, Palace of the Golden Horses (PGH) is the choice accommodation for head of states, kings and queens who came to Malaysia for formal meetings. It is strategically located in the MINES Resort City where every wonder is linked by water. Mines Resort City is dubbed the "Seven Wonders of Malaysia", sprawling over 1,000 acres is a masterpiece crafted from the world's largest open cast tin mine.
Though not situated in the middle of bustling Kuala Lumpur, PGH is surrounded by a few of Malaysia's grand attraction. Delegates who wants a taste of Malaysian shopping can visit the MINES Shopping Fair, just a boat-ride away from the Palace. To wind down a long day at the conference, the MINES Beach Resort & Spa as well as the MINES Resort & Golf Club are just minutes away.
The Signature International Conference Centre (SICC), located in the Palace of the Golden Horses, is Malaysia's first dedicated conference centre, secluded in a private wing of the hotel. Its state of the art facilities, 318-seat auditorium and 20 excellent meeting rooms including two ballrooms provides the ideal venue for international conferences and meetings. The elegant Royal Ballroom and Unity Room provide the perfect ambience for celebrations or events on a grand scale. They have a banquet seating capacity of 1,200 and 400 persons respectively.
Additional Information
Floor Layout of SICC
Location Map of PoGH