Welcome to APRICOT 2009 Manila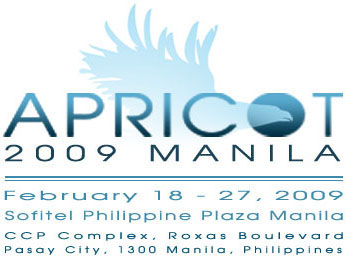 APRICOT is going to Manila, Philippines on February 18-27, 2009. APRICOT 2009 will be hosted by the Advanced Science and Technology Institute (ASTI), Department of Science and Technology (DOST) in partnership with the Asia Pacific Internet Association (APIA)---the legal entity that supports APRICOT.
Learn, Interact, and Network. Be a part of APRICOT 2009. See you in Manila!
APRICOT stands for Asia Pacific Regional Internet Conference on Operational Technologies. Since 1996, APRICOT had been providing a unique and successful educational forum for Internet builders in the Asia Pacific region to learn from their peers and other leaders in the Internet community from around the world... Read more
The APRICOT 2009 Program Committee is now seeking contributions for Presentations and Tutorials for APRICOT 2009.

We are looking for people and proposals that would:
Offer a technical tutorial on an appropriate topic; and/or
Participate in the technical conference sessions as a speaker; and/or
Convene and chair a Birds of a Feather (BOF) session...Read more
Be an APRICOT 2009 Partner
As with any major undertaking, support coming from Industry, Academe, Government, and other interest groups is necessary to ensure a successful staging of APRICOT. In light of this, we encourage your organization to join us and be an APRICOT 2009 Manila Partner. By being a partner, your organization will have valuable opportunities to expose your organization, products and services to an international audience of Internet builders. Most importantly, this exposure would be in the context of a respected, recognized, and highly credible forum... Read more